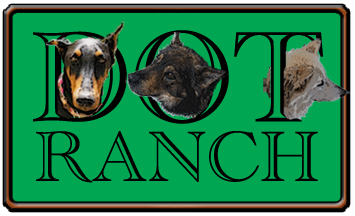 Scio's Source for Navajo-Churro Sheep, Heritage Poultry, and Fiber Products
(503) 575-8489 Tuesday-Saturday 10:00am-6:30pm
---
Dot Ranch Community Supported Agriculture Shares
It's that time of year again! We're preparing to start up the Spring 2014 Community Supported Agriculture Shares program here!
We have 8 whole lamb shares available for March and April delivery. Each share includes: A selection of chops, steaks, ground, stew, one whole leg of lamb, one shoulder roast, and one rack of lamb, Frenched. Custom cuts are available!
Our lambs are 100% pasture raised, and they're never given antibiotics, hormones, or chemical treatments. Our pastures have been no spray, no non-organic fertilizer for 8 years straight. All of our meat is USDA inspected & vacuum packed, and delivery is available. Of course, if you want to come see the farm, we welcome shareholders to come join us here for direct pickup as well!
Whole lamb shares are available starting at $320 for local pickup, $340 for delivery to Delivery Area A, and $380 for delivery to Delivery area B. The average hanging weight for each lamb is between 45-60 lbs, and the average cost is around $7.00/lb for the smallest of the lambs. On a fixed income, or state/federal aid? Please contact us for a special discount.
We DO accept Paypal and Credit Cards! Want a whole lamb share but don't have the freezer space? We can split your share into two deliveries, and even into two payments. Just contact us for a custom invoice and we'll make it happen! Interested in a half share or individual cuts? Send us an email via the contact link to join our mailing list for active updates on farm news and availability updates.
---
Navajo-Churro Lambs For Sale
2013 Navajo-Churro Lambs
ALL 2013 Lambs are SOLD!
---
2014 Navajo-Churro Lambs
2014 Lambs will be born between mid February to mid May. They will be available for sale starting in June and continuing through September. 2014 is a high demand year, so lamb availability will be very limited. We recommend placing deposits early on any lambs that catch your fancy. Shipping will be available to Idaho, Utah, Wyoming, Nebraska, Missouri, Illinois, Indiana, Kentucky, Tennesee, Arkansas, Oklahoma, Kansas, Colorado, and Arizona.
Please Contact us for more photos, details, prices, and to place a reservation on your lamb! We do discounts, and our prices range from $175-$300 depending on age, background, color, and registration status.


---
Adult Navajo-Churro Sheep For Sale
We will be selling a number of high quality ewes and registered rams this year. Please check back in August!
---
Irish Dexter Cattle For Sale
Coming in 2014: Registered Irish Dexter Cattle
---

Poultry for Sale
Muscovy Ducks
Currently, we are all sold out on 2012 Muscovy Ducks and ducklings. Feel free to
contact us
to reserve your 2013 birds. We will have gray, white, black and white, and chocolate birds available for sale in 2013.
We still have high quality duck for your table! Fully dressed birds are available at $7.00/lb. No antibiotics or chemicals were fed to these birds, and all our poultry receives the highest quality locally milled all natural food processed by Q-Bar Farm. 40% leaner than Pekin duck, Muscovys have a light, delightful flavor that pairs well with citrus and ginger, or honey and nutmeg. You can taste the difference in our ducks!
Heritage Chickens
Day old chicks and young pullets are available for reservation now!
We have a minimum order requirement of 2 chicks of each breed. Discounts available for orders of 1 dozen and up. Please Contact us to reserve orders of more than 1 dozen.
It typically takes us 30-60 days to fulfill each order for day old chicks. Pullets are available immediately. Roasters are available immediately. Custom processing at a ODA licensed facility is available on request.
We do not ship chicks: All chick orders MUST be picked up in person.
When we place your eggs in the incubator, we will notify you to the very day that you need to be available to pick your chicks up. Need your chicks on a certain day? Contact us to make arrangements, and we'll do whatever we can to accommodate your needs.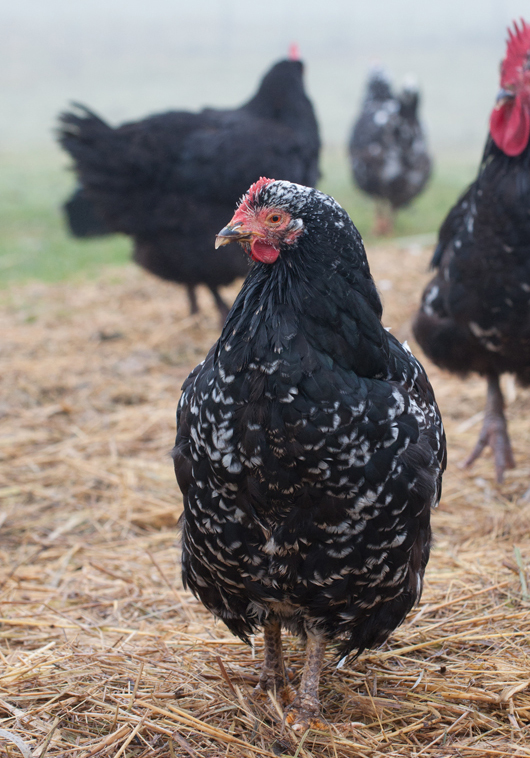 Mottled Java Straight Run Day Old Chicks By the Pair: $12.00
Mottled Java Straight Run Day Old Chicks By the Dozen: $60.00
Mottled Java Pullets $20.00: Contact us for reservation
Mottled Java Cockerels $15.00: Contact us for reservation








Black Copper Marans Straight Run Day Old Chicks By the Pair: $15
Currently unavailable


Black Copper Marans Straight Run Day Old Chicks By the Dozen: $78.00 (Due to high demand we recommend you contact us for availability)
Currently unavailable
Black Copper Marans Pullets $25.00: Contact us for reservation
Black Copper Marans Cockerels $15.00: Contact us for reservation
Interested in layers or broilers? We have a low cost alternative to the show quality stock for the back yard enthusiast. Javarans, a cross of our Mottled Javas, Cuckoo Marans, and Black Copper Marans, are available for table or your laying flock. These birds are robust in size, and lay eggs that are a medium deep brown, often time with darker brown speckles. Of gentle temprament, and quicker maturing than Mottled Javas are, these birds are wonderful for small homesteads and backyard bbq flocks.


Javarans Straight Run Chicks by the pair: $10
Javarans Straight Run Chicks by the dozen: $48.00
Javarans Pullets-each: $15
---
Fleece and Fiber Products
First Shearing of 2013 is March 9th!
All of my finished and semi finished fiber products are the result of a labor intensive handcrafted process. My wool is only washed with ecologically friendly gentle detergents, and it is washed in a special, Dot Ranch developed method that leaves just the right amount of lanolin in place for ease of spinning, beautiful luster, unparalleled durability, and the best hand. For those unfortunate few folks with lanolin allergies, we can also provide a completely lanolin free product.

My batts are hand picked and hand carded, which results in virtually vegetable matter free and effortlessly spinning wool so that you can spend your time spinning, not gritting. My dyed wools are all vegetable dyed in a natural process that leaves fully compostable byproducts, without harsh chemical mordants or acids. These colors are tested for color fastness, and thoroughly washed, picked, and carded so as to remove every possible trace of the vegetable matter from the dye bath. Many of my vegetable dyes are directly sourced at a fair trade price from Indigenous and First Nations peoples across the world, or wildcrafted locally with sustainable practices.
To purchase Dot Ranch processed fiber and to reserve raw fleeces, please visit my Etsy shop or contact me for direct sales at a discount.

Coming soon: Hand spun yarn and art yarn from local cottage mill artist Feba
---
Livestock Sales Polices
Here at Dot Ranch, we take the sale of livestock very seriously. We strive to only sell the best quality animals for your breeding or fleece flocks, and we will not knowingly sell any injured, sick, or diseased animal. We vaccinate all our animals, and provide detailed pedigrees and vaccination/shearing records with each sheep or cow sold.
I am a proud member of the Navajo-Churro Sheep Association, and I do submit all animals for registration once annually. I make every attempt to not sell any livestock that would not be eligible for registration without fully disclosing that fact. There are, on occasion, animals that do not match the characteristics required to register, but if they have a particularly nice feature, such as excellent fleece, we will market those animals for Fleece Flocks Only. Occasionally, there's a lamb which is just on that border of being registerable, but not necessarily being 100% desirable for breeding. Those lambs will be described as for Fleece Flocks or breeding at buyer's discretion. All other lambs, if not clearly marked, are for sale as breeding stock and uphold the same standards of quality that I demand from my own breeding flock. I guarantee all breeding quality animals, if your ewe or ram fails registration at 18 months of age, I will refund your money or exchange the animal for a registerable animal of equivalent age if there is one available.
Heritage poultry pullets and cockerels above the age of 16 weeks are guaranteed purebred unless otherwise stated. If you were sold a purebred breeding stock bird and it exhibits qualities that aren't to breed standard, I will exchange your bird or refund it. If you purchased a pullet and it begins to crow, you may return it for a different pullet if available, or return it for refund of your purchase price.
Straight run day old chicks are not covered by the purebred or pullet policy. Day old chicks are the purchaser's responsibility, regardless of gender or gender ratio. While it is statistically true that there is a 50% chance of pullets or cockrels, every bird breeder knows that this doesn't always play out in smaller hatch rates. While every effort is made to avoid unintended cross breeding, occasionally chicks happen. If you purchase BCM or Mottled Java chicks and discover one is a Javarans Cross, we will refund your purchase price for that chick. We cannot determine if day old chicks will develop into show quality stock, but we can guarantee that our breeding stock is vetted for quality, genetic diversity, and fertility. Straight run chicks are one of those situations where anything could happen, but they provide the most economical way to attain quality poultry.

Reservations
To reserve a lamb, please contact me by phone or email. All lamb reservations require a fully refundable $50.00 deposit. I will not reserve any lamb any longer than 90 days, and if you have not purchased your lamb in that time period, your deposit will be refunded and the lamb will be relisted for sale.
Discounts
Buy 3-5 sheep from Dot Ranch, and you'll receive a 10% discount on your total price. Buy 5 or more sheep, and you'll receive a 15% discount on the total price.
On Federal or State Aid? Dot Ranch is working towards getting certified to accept SNAP benefits for egg, meat, and produce sales. In the meantime, show your SNAP card at time of delivery or pickup and get an automatic 10% discount on all edibles!

Traditional? Need lamb for ceremony or wool for weaving and felting? Call, text, or email me for special deals when resources allow. Special deals for Rez flocks, please contact me for more details.
Shipping
Shipping is the responsibility of the buyer. For quantity purchases, you can contact us about transport, or arrange for shared transport with other sheep buyers in your area. On rare occasion, I can deliver cows and sheep at the same time.

All state required health testing for import to the buyer's state that is not already performed at Dot Ranch is the responsibility of the buyer--we will arrange for the tests and take the animals in for blood draws, but the buyer must pay for the cost. We do have access to the Oregon State University Veterinary Science Laboratory, which provides economic tests for OPP, B. Ovis, and many other diseases. Our flock is Scrapie free, and we comply to all Federal and State regulations for export and import of sheep.